The National Pole Vault Summit is a grassroots developmental clinic established and continued to promote safety and encourage the advancement of Pole Vaulting at all levels through constant education. The Summit structure is designed to meet the needs of all ability levels including athlete, coaches, and parent break-out sessions, learn-by-doing instruction and round table discussion with the world's best athletes and coaches. Led by National and Regional Staff influenced by National Men's and Women's Pole Vault Developmental chairmen, each year we compile the most experienced and extensive staff to bring a truly unique experience for our attendees. We appreciate the massive amount of help to put on the best event in Track and Field. We look forward to seeing you in January!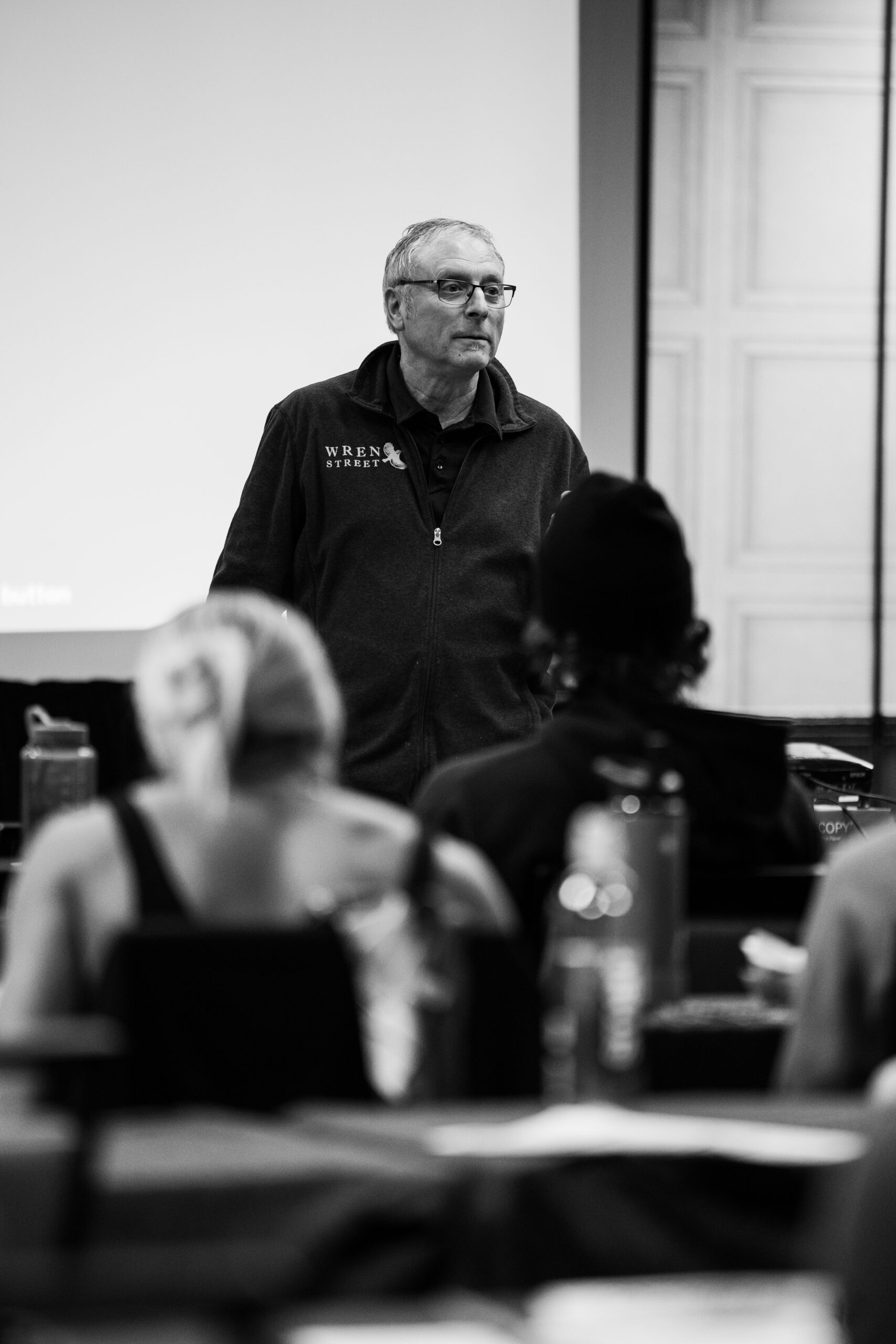 Steve Chappell, Co-Founder and General Manager of UCS Spirit, pictured above.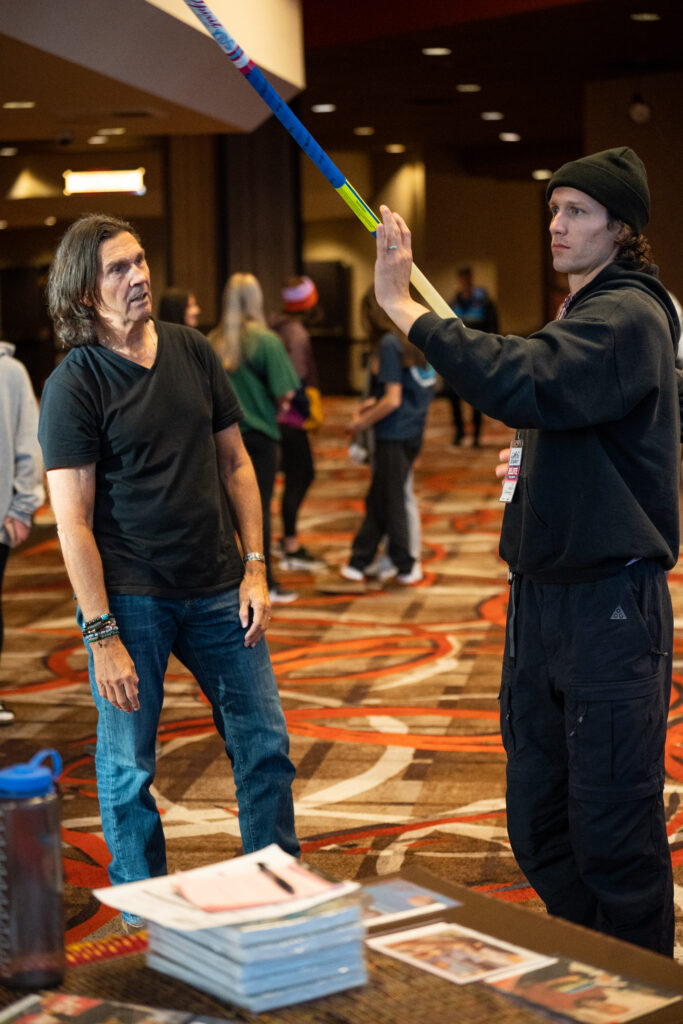 David Butler (left), Summit Instructor and Rice University Pole Vault Coach, discussing technique with Elite Vaulter, Cole Walsh (right). 
Clinic Structure / Breakout Groups
The Athletes, Coaches, and Parents are divided into the following categories: Beginners – High School – College – Open – Masters – Coaches – Parents. By taking a grass roots approach to the conceptual development of safe, modern pole vaulting; the activities, drills, and participation groups are specifically set up for all beginner and high school athletes according to their ability level. Lectures and breakout sessions promote and encourage discussions specifically for college, open and masters athletes; coaches, as well as separate sessions specific for parents.  The new classroom / conversational style setting has proven to be a more direct environment to ask questions, and cover the topics / information that you are looking for!  Coaches and athletes of all levels have something to gain from this unique structure and unparalleled access.
Activities for Beginners / High School Boys / High School Girls
Beginners – High School Boys – High School Girls: Are broken up into smaller activity groups according to ability. These groups of 15 to 20 similar level vaulters whether you are a State Champion or have yet to pick up a vaulting pole.  Each group is led by National Staff Members through vault exercise, drills, and discussion to provide a fun "learn by doing" environment specific to your vault ability.
Lectures for Coaches / College and Masters Athletes
Lectures led by leading National and International Coaches address many challenging issues in the development of maturing athletes and encourage questions and discussion from the athletes. We encourage an open forum and discussion to advance the development of more experienced athletes. Each year the Summit focuses on a few related topics to cover in these breakout sessions. Some of these topics include; the importance of vaulting and training safely, technical training concepts (speed, strength, and gymnastic development), psychological development (mental preparation, stress management, focus, etc.), as well as many others.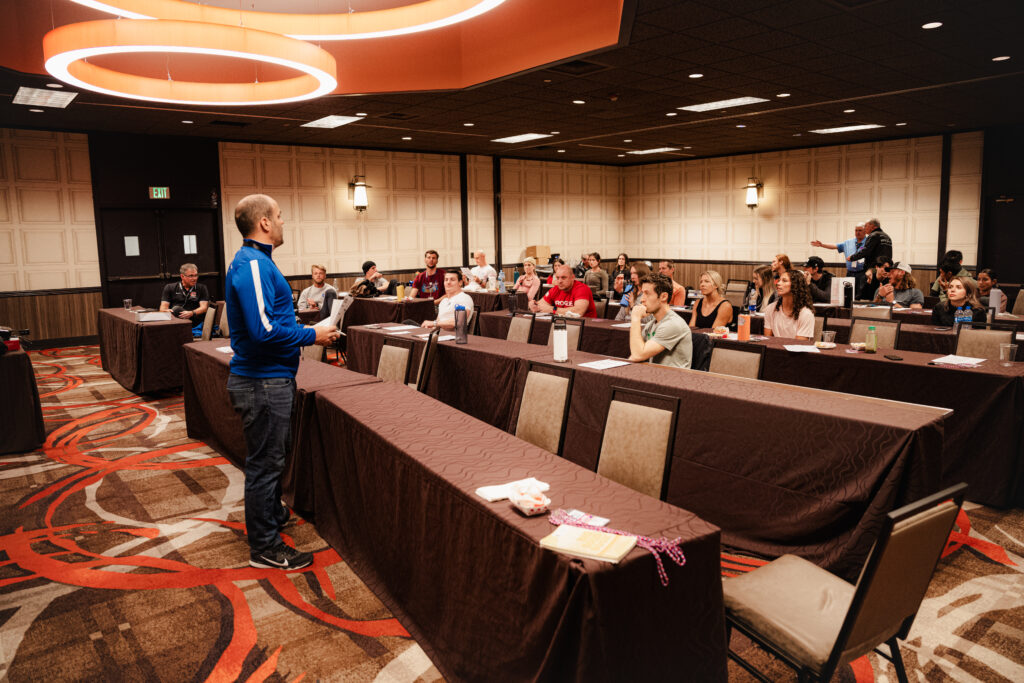 Danny Wilkerson, Head Coach at Bethel University, lecture on expectations of post collegiate/professional pole vaulters.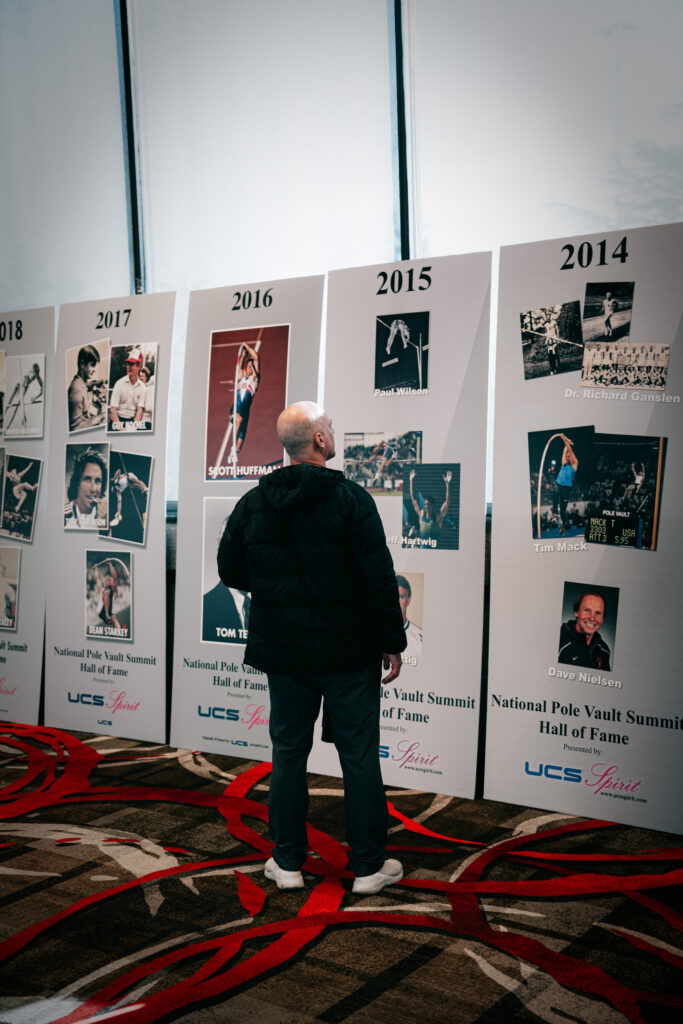 Summit attendee, admiring past National Pole Vault Summit Hall of Fame Inductees.
Attend your own lectures addressing your growing athlete and managing the success and safety of pole vaulting. Parents are invited to watch the afternoon learn by doing sessions from the stands in the Events Center or check in on your beginning vaulters throughout the day.
Enjoy the environment of the Summit with no lecture or session privileges. The Spectators Pass does allow shuttle service and Arena access, but no access to lecture sessions.